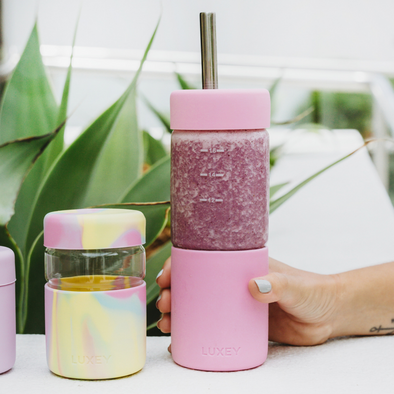 Here's a super simple and delicious smoothie recipe!
Did you know that berries are among the healthiest foods on earth? Berries not only taste great but they are also highly nutritious, and provide many health benefits, specially for your heart and skin. By including them in your daily diet you can improve your overall health in a very enjoyable and tasty way.
Yogurt is great for snacks but also to make your smoothie creamier and more nutritious. Did you know that yogurt provides almost every nutrient that your body needs - like protein, calcium, B vitamins and minerals? Just make sure to choose the natural ones with few ingredients and no added sugar for better health benefits. 
1 ripe banana
1/2 cups mixed berries
1/2 cup natural yoghurt
1/2 cup milk of your choice
2 tsp honey 
Blend it all together and enjoy!
And don't forget to tag Luxey Cup when you do it 💕